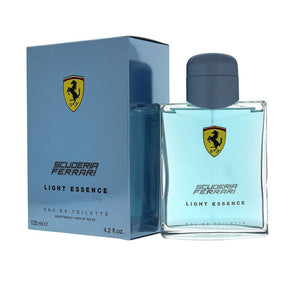 Ferrari Scuderia Light Essence Cologne
for Men
by Ferrari, Ferrari Scuderia Light Essence, released in 2007, is a subtle yet inviting cologne that beckons others to come closer. Sweet apple immediately awakens with a sparkling crispness.
The scent brightens even further when citrusy orange blossom is introduced. Intoxicating and decadent, the orange blossom also balances the apple with a hint of fresh flower.
A final note of freesia combines the aromatic qualities of the earlier scents with a deep
floral tone that is equally reminiscent of summer fruits.
Ferrari Scuderia Light Essence is a cheerful, upbeat cologne perfectly designed for a warm day.