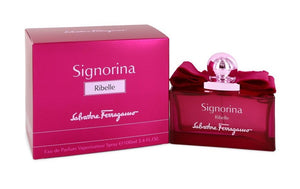 Signorina Ribelle for Women by Salvatore Ferragamo Perfume.
A lush and deliciously sweet yet bright floral oriental fragrance with a subtle gourmand edge, Signorina Ribelle fuses sweet tropical accords with hints of citrus and spice. The opening tantalizes with crisp tones of tart-sweet mandarin and red pear harmonized with rosy nuances of pink pepper. The heart is heady and intoxicating with tropical, banana-toned ylang ylang, jasmine sambac and alluring Tahitian gardenia. An icy-sweet and creamy finish
of vanilla, coconut milk and spiced sandalwood leaves an inviting, velvet-soft finish.