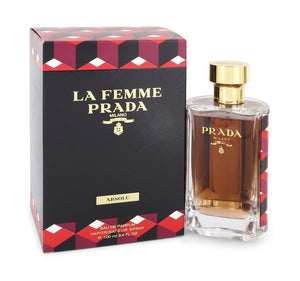 Prada La Femme Absolu Perfume for Women by Prada, Le Femme Prada Absolu is not your average women's perfume. Instead, it is rich in contrasts and spice that allows you to radiate a confidence that is all your own.
You can feel this remarkable effect upon its first spritz with spicy notes of Jamaican pepper, blood orange and pimento essence. However, a fellow note of peach softens this aroma showing you its sweet interior.
Middle notes of orange blossom add a touch of bitterness and of lightness.
Finally, base notes of vanilla and tolu blossom soften out the aroma leaving you with a pleasant scent that can last you from the office to date night.