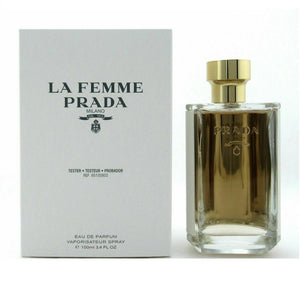 La Femme Perfume for Women by Prada, Prada released La Femme in 2016 at the same time they released the masculine L'Homme.
The fragrance redefines femininity with a unique blend of scents formulated by Daniela Andrier. The opening notes of beeswax and spice give way to heart notes of frangipani, tuberose, iris and ylang ylang.
The tuberose is the strongest note, with the frangipani giving it a slightly tropical feel. As the fragrance dries down, the base notes of vanilla and vetiver appear.
The beeswax and vanilla give this fragrance a creamy, gourmand accord that reminds you of honey.
The combination of white and yellow florals creates a surprisingly sweet floral that the honey vanilla notes balance out perfectly. La Femme has sillage decent and impressive longevity.
We are selling Tester Bottle With Cap. Brand New, Unused, 100% Full.