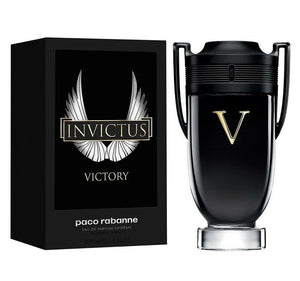 Invictus Victory for Men, extreme Eau de Parfum, a scent that shocks. In this intense duel, two powerful and contrasting elements do battle: freshness and sensuality.
This Paco Rabanne fragrance for men features two unique combinations for a long-lasting scent. At the outset, a surprisingly fresh boost: sharp lemon mingles with powerful incense. An extremely sensual surge follows: full-bodied tonka bean is supported by powerful vanilla.
The perfect match between emphatic freshness and magnetic intensity. Strong and beguiling, nothing can stop it. Revealed: a new and extremely powerful fresh ambery fragrance by Paco Rabanne.