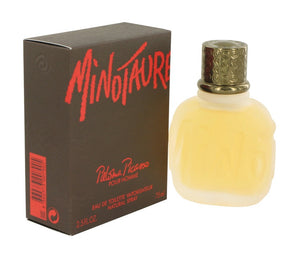 Minotaure Cologne for Men by Paloma Picasso, In Greek mythology, a minotaur is a creature with the body of a man and the head of a bull.
Minotaure the cologne evokes their respective intelligence and strength. Released in 1992, it is a complex blend of aromatic ingredients.
The top notes are fruity bergamot, spicy tarragon and coriander, green galbanum, and floral aldehydes.
This harmonious opening flows into a middle of lily of the valley, rose, geranium, and jasmine. While each flower gives off its own distinct profile, they form a gorgeous bouquet of garden scents.
The base is savory and strong, with sandalwood, tonka bean, amber, musk, and cedar supporting the gentle sweetness of vanilla.