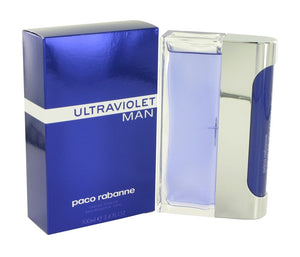 Ultraviolet Cologne for Men by Paco Rabanne, Ultraviolet is an intense and provocative cologne that was created in 1999 and launched in 2001.
This fragrance was designed as the male counterpart to a perfume of the same name. This green and woody fragrance starts off with a powerful combination of refreshing mint and cozy amber. As the scent builds, the spicy, earthy heart makes its way to the forefront with middle notes of oriental spices, earthy pepper and woody vetiver. The final notes of vanilla and
oakmoss create a warmer note for the cologne to sit on as it lingers on the wearer's skin.