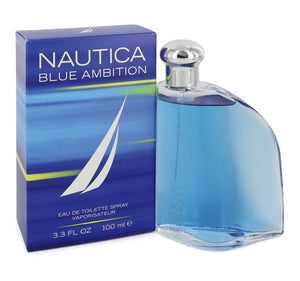 Nautica Blue Ambition Cologne
for Men
by Nautica, The unique scents that make up Nautica Blue Ambition bring to mind a forested island hiding a secret orchard only the adventurous can find. The cologne begins with delectable top notes of juicy, honeyed mandarin orange and tart, bitter, citrusy bergamot.
Next, the middle notes take you on a journey: dip your toes into the incoming tide with salty, iodine-like seaweed, walk through ancient woods with green, balsamic pine and climb a set of hidden stairs
with clean, woody Clearwood®. The base notes could be at home in a well-used study with scents of musky cashmere wood, inky oakmoss and warm, resinous amber.