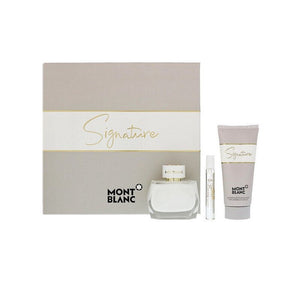 Montblanc Signature Perfume for Women by Mont Blanc, Take your wardrobe up a notch and feel like an upscale modern woman of today when you splash on the remarkable Montblanc Signature by Mont Blanc.
This decadent yet lightweight women's fragrance boasts floral, fruity and powdery accords for a sleek, seductive confection that's bound to make you feel irresistible any time you apply it to your skin.
The entrance of sweet and zesty clementine at the top instantly captures the attention of anyone nearby, while a touch of romance emerges at the center with the arrival of magnolia, peony and ylang-ylang. Rounding out the base are notes of blissful vanilla, white musk and benzoin for a rich, creamy foundation that serves as a perfect accessory for any daytime ensembles.
Set Includes:
- 3.0 oz 90 ml Eau De Parfum Spray Women
- 0.25 oz 7.5 ml Eau De Parfum Spray Women
- 3.3 oz 100 ml Perfumed Body Lotion