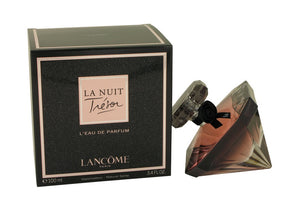 La Nuit Tresor for Women by Lancome Perfume. Set the mood with the entirely original and intoxicating La Nuit Tresor, a scintillating fragrance from Lancome.
Formulated by Amandine Marie and Christophe Raynaud, this majestic scent is an array of fruits, florals and sugary sweet ingredients that's sure to make even the coldest heart melt. This tantalizing blend uses tangerine, pear, strawberry and passion fruit for a tropical breeze of a scent that will always turn heads. Following these are the vanilla
orchid, papyrus, patchouli and licorice to settle the wild notes and bring them to a warmer, cozier mix of natural scents. The addition of coffee and caramel notes combine to create a sexy, spicy, creamy aroma that will leave anyone in the room under your spell.