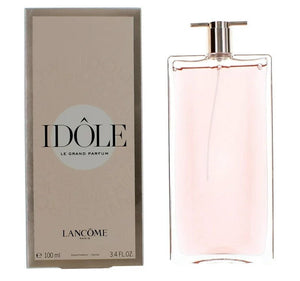 Idole Perfume for Women by Lancome, Imbued with feminine elegance, Idole was released in 2019.
It opens with fruity top notes of sweet, slightly green pear and tart, bitter and citrusy bergamot. The middle notes are heavily floral, highlighting the fragrance's femininity with narcotic, piercingly sweet yet animalistic Indian jasmine as well as clean, waxy, powdery and distinctly lemony Turkish rose. The middle notes are further enhanced by rose de mai, which is similar in aroma to Turkish rose. The base
notes add depth to the perfume with cozy vanilla and warm musk. This fragrance is very long-lasting and has heavy sillage. The balance of florals, fruits and animalistic notes makes it a great choice for spring or summer days.