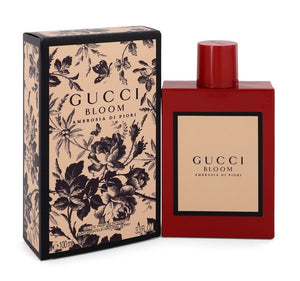 Gucci Bloom Ambrosia Di Fiori Perfume 
for Women
by Gucci, Dive into the majestic splendor of the divine Gucci Bloom Ambrosia Di Fiori, a stunning women's fragrance. This enticing perfume combines floral and powdery accords for a lush, sweet elixir that's impossible to ignore.
Top notes of elegant, rich jasmine bud and fresh, breezy Rangoon creeper open the scent with delicate yet luscious bouquet, only further enhanced by the influence of Indian tuberose at the heart. The essence of chic Damask rose and
earthy Tuscan orris lend a rejuvenating touch for an overall exciting and sensational aroma that pairs perfectly with spring and summer ensembles.