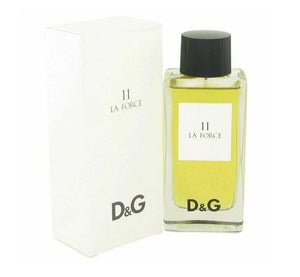 La Force 11 Perfume Unisex by Dolce & Gabbana, La Force 11 was released in 2009 at part of Dolce & Gabbana's Anthology line of fragrances based on tarot cards.
This is a unisex scent that opens with spicy notes of cardamom and cinnamon with a surprising, salty pop from pimentos.
The fragrance quickly turns smoother as the cinnamon blends with nutmeg. The heart notes of heliotrope and cypress blend a delicious almond/vanilla accord with the slight bitterness of cypress.
The dry-down of La Force 11 highlights sandalwood and warm vanilla with a bit of caraway to keep the spice note going. This is a subtle gourmand fragrance that has a fine sillage and moderate longevity. It's a quiet, refined fragrance with a sumptuous edge that works well on both men and women.