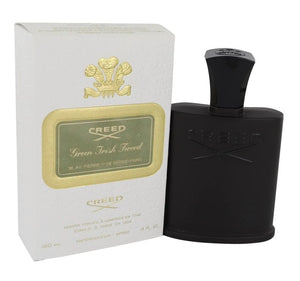 Green Irish Tweed Cologne
for Men
by Creed, This sporty mix is sure to make any man feel like a famous movie star. With hints of violet leaves, Mysore sandalwood, Florentine iris, ambergris, and French verbena, Green Irish Tweed is known for its longevity and reasonable sillage.
Though certainly not overpowering, its refreshing and luxurious aroma lingers on the mind long after its wearer has departed the room. Furthermore, it's widely considered to be one of the defining scents of the brand's
catalogue. Green Irish Tweed was first released in 1985 and originally made for Hollywood icon Cary Grant. Creed has a long and storied history in the fragrance world with over 250 years in business. Founded by James Henry Creed after designing a fragrance for King George Iii, the company's products present a modernized scent of past triumphs.