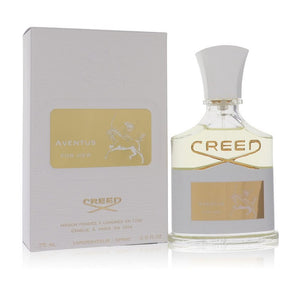 Ref: 1107566 Lot: S6620L11
Creed Aventus Her 
for Women
is the female accompaniment of Creed's 2010 best selling men's Aventus Creed Eau De Parfum Spray.
Creed released a masculine version of this perfume in 2010, but in 2016, it decided to launch the female accompaniment.
Aventus is floral, fruity and warm all wrapped into one.
A couple spritzes is all you need to excite your senses. It has a rather intriguing blend of notes that exudes confidence.
It opens with a luscious array of violet, lemon, green apple, patchouli, pink
pepper and bergamot. The heart is composed of styrax, rose, Mysore sandalwood and musk.
It ends powerfully with amber, lilac, sweet peach, ylang-ylang and black currant.