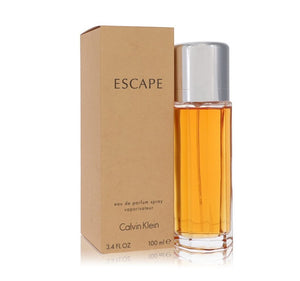 Escape Perfume for Women by Calvin Klein, Escape is a distinctive, enduring, and familiar fragrance that was released by Calvin Klein in 1991.
Its delicate and refreshing floral and fruit melange is perfect for days in the office or nights under the stars.
It opens with a burst of flowery chamomile, accompanied by luscious, juicy fruits including apple, mandarin, melon, peach, and plum.
The middle blossoms with more floral notes from freshly picked rose, lily-of-the-valley, carnation, cyclamen, heliotrope, and jasmine. As the drydown ensues, it settles into an intoxicating blend of woody cedar, animalic musk, sandalwood, and earthy, resinous amber.
The effect is sensual and irresistible, yet not overpowering. It's a fragrance that exudes classic romance and femininity, and is a must for any perfume collection.