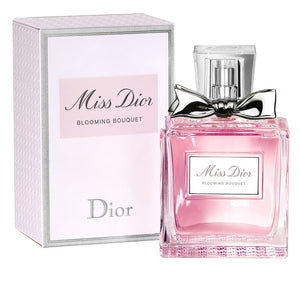 Miss Dior Blooming Bouquet Perfume for Women by Christian Dior, Miss Dior Blooming Bouquet is reminiscent of the arrival of spring. With delicate, floral notes, it is a soft and feminine essence.
Its top notes of Sicilian mandarin create a union with middle fragrances of peony, damask rose, apricot and peach. The fruity scents complement the floral tones, accentuating the silky fragrance.
Then, to finish off the perfume, Dior wraps it up with a velvety white musk. This scent is perfect daytime wear. From picnics to days spent on the beach, this perfume is an outdoor fragrance that stays with you.