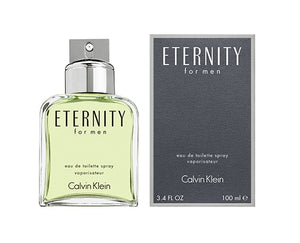 The Calvin Klein man is refined, distinctive, and timeless. Eternity
for Men
symbolizes that man who is sensitive, reliable and is determined to live up his values emphasizing work, family, health, and happiness. Eternity for Men by Calvin Klein can be described as a classic, exhilarating, and masculine scent that captures the spirit of today's man through its cool, crisp, and woodsy accords. Eternity for Men is a timeless fragrance that has been part of the Calvin Klein fragrance house since 1990.
Top Notes: Green Botanics, Lavender, and Mandarin.
Mid Notes: Sage, Geranium, Basil Leaves, and Jasmine.
Base Notes: Amber, Rosewood, Vetiver, and Sandalwood.