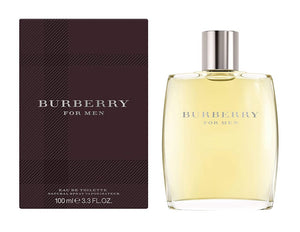 Burberry for Men is not your average cologne. As one of the most powerful fragrances from the Burberry house, Burberry for Men Eau de Toilette is a sharp, spicy, and elegant fragrance
for Men
who want to be the center of attention. Its lavender and rich amber notes make it a distinctive scent that captures everyone's attention. A fresh fragrance for special occasions, versatile as the gentleman who wears it, Burberry for Men defines the stylish and sophisticated London man.
Top Notes: Fresh Mint, Soft Lavender, Soothing Bergamot, and Thyme.
Mid Notes: Deep Sandalwood, Moss, and Geranium.
Base Notes: Warm Cedar Wood and Simple Amber.