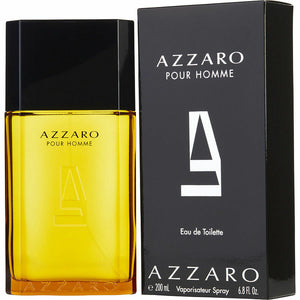 An ode to the elegance and refinement of the Azzaro man, Azzaro Pour Homme is a distinguished fragrance for Men with a dominant trail. Sensuality and instinctive elegance blend naturally for a men's cologne that offers timeless alluring charisma.
The distinguished freshness, power, and sensuality of the moment combine with masculine fragrant notes for a cologne that evokes warmth and elegance from the very first spritz.
Over 320 ingredients create a rich composition with lavender, star anise, and vetiver empowering notes. The Azzaro Eau de Toilette experience is like no other.

Top Notes: Asian Star Anise, Citrus Lemon, and Bright Bergamot.
Mid Notes: Vetiver from Haiti, Soft Lavender, and Patchouli.
Base Notes: Musk, Sandalwood, and Amber.