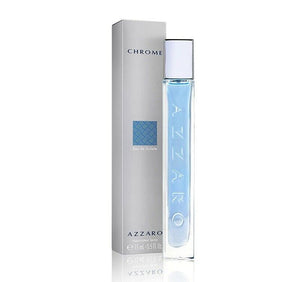 Azzaro Chrome
for Men
is an ode to the Mediterranean and its freshness. That's why the bottle design exudes azure blue, representing the infinity of the sky as you navigate through the crystal clear waters. Azzaro Chrome men's cologne is a wave of freedom, vigorous, energetic, and the essence of many unforgettable memories. Enveloping freshness captured with noble ingredients from the citrus, woodsy, and aquatic family that blend to craft a men's cologne that feels like a splash of the sea.
Top Notes: Bitter Seville Orange, Sweet Lime, Bergamot, Pineapple, Rosemary Leaves, and Neroli.
Mid Notes: Transparent Musk, Jasmine, Coriander, and Cyclamen.
Base Notes: Green Tea, Tobacco, Fresh Grass, Brazilian Mate, Sandalwood, Tonka Bean, and Cedar.