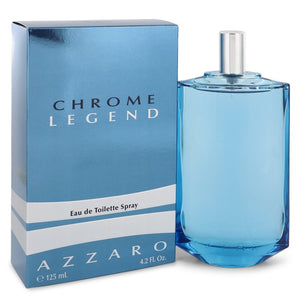 An aromatic fruity men's cologne, Chrome Legend is for men celebrating life's greatest adventures. It is inspired by the freedom of building a legacy to pass on to next generations.
This Eau de Toilette for Men shines with an array of fruity notes and aromatic spices. Chrome Legend for men opens with a smooth blend of amber and musks, while the refreshing flavor of green apples surprises you at the middle, and bitter orange accords linger at the base.
The empowering and fresh notes of Chrome Legend by Azzaro make it the perfect men's cologne for a spring or summer day.
This well-balanced fragrance is a must-have for every young adult and modern man's fragrance collection.

Top Notes: Tonka Bean, Bright Amber, and Warm Musk.
Mid Notes: Tart Green Apple and Bitter Orange.
Base Notes: Fresh Vetiver and Crisp Cedar.