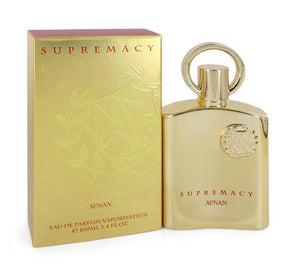 Supremacy Gold Cologne
for Unisex
by Afnan, Some things are so perfect, they last almost unchanged for millennia. 3,000 years ago, the first commercial, wearable fragrances were created for Babylonian royalty using many of the same notes top fashion houses still use today.
Launched in 2013, Afnan Supremacy Gold cologne is indeed timeless, using modern distillations of classic flowers, fruits, oils and other aromatics for the ideal masculine scent. Woody and floral violet petals join elegant and creamy
peach blossoms, mysterious cumin and tangy nutmeg for a sexy and sparkling open. Earthy patchouli and powdery iris form a memorable heart. The base is long lasting with plenty of sillage; warm and seductive amber blends with slow and soft vanilla to convey an Oriental impression. Suave and mature benzoin mixes with Middle Eastern Oud wood to emphasize the ancient and heady nature of this fragrance.