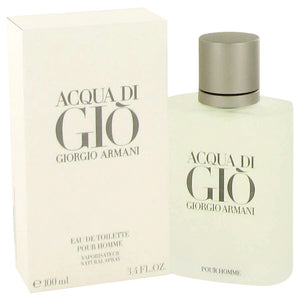 Iconic, fresh, pure, and stimulating, that's the essence of Acqua di Gio
for Men
. This aquatic fragrance opens with a refreshing splash of fresh, Calabrian bergamot, green tangerine, and neroli. This is followed by light nuances with a blend of jasmine, crisp rock rose, warm Indonesian patchouli, and fruity persimmon. Authentic, natural, and a woody marine freshness that's both sensual and fresh, Acqua di Gio is the pure warmth and coolness of the Mediterranean Sea encapsulated in a fragrance bottle.
Top Notes: Jasmine, Crisp Rock Rose, and Aquatic Nuances.
Mid Notes: Rosemary, Persimmon, and Indonesian Patchouli.
Base Notes: White Musk